Digital Compression and Streaming
DCX Compression System
We are now proud to offer both cloud and locally hosted tools to manage video intelligently and seamlessly throughout any network environment from the source to storage.
Why DCX Technology?
The DCX System is the only technology to successfully combine and interlace Wavelet and Differential compression. The result is reduced file size and bandwidth utilization without significant loss of image quality.
DCX compression delivers a 50% - 90% performance advantage over MPEG-4 and h.264 compression and up to 80% performance advantage over h.265. DCX can further compress h.264 and h.265 for additional efficiency and affordability.
Advantages of DCX Compression
Higher frame rates of high-resolution video for live streaming
Transmission of multiple camera video streams over a single 3G/4G/5G connection
Store digital files in significantly less space
Further compress already compressed video like h.264 and h.265
DCX codec can be applied to High Definition streams from 720 to 1080i
DCX Provides Proven Benefits
Ease of installation in hosted or private networks
Simple integration into popular VMS solutions
Immediate ROI for cellular and satellite applications
Continued ROI in storage costs
Data Security and Patented Chain of Custody modules included
Cloud Hosting
An appliance loaded with the DCX encoder is installed between the camera and the network interface. The compression is applied and delivered across the network to a cloud based decompression and storage facility. Then, decompressed video can be delivered and distributed within your end user community
The stream can be converted to an RTSP stream for incorporation into most VMS systems.
Storage of video is also provided with this solution.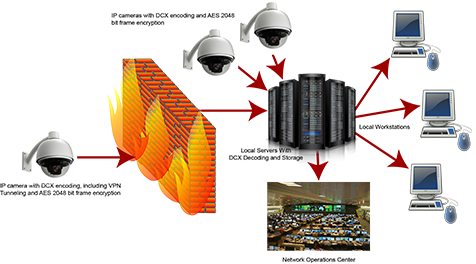 Local Hosting
A loaded appliance is provided for the source video. Decoding takes place on a server within the customer network, loaded with the proper software set. Distribution and storage are at the customer's direction.
Vision4ce® will work directly with the customer to build a customized engineering solution for distribution and storage based on the customer's requirements.
Software Highlights
Video compression ratio: Supports image sizes from 80 x 60 to 4024 x 4024; up to 750 to 1 (lossy); up to 350 to 1 (lossless)
Frame rates: from 1 to 60 fps; up to 256 grayscale support
Real-time de-interlacing: 640 x 480 video
Format support: ISO headers support and user-defined encryption metadata; major audio compression all formats
Compression ratio control: Precise with variable rate compression for low bandwidth or 3G transmission protocols
Inline Conversion: includes dual streaming capability
Average frame size: less than 0.8kb at 30 fps and 320 x 240 pixel