VIDEO TRACKERS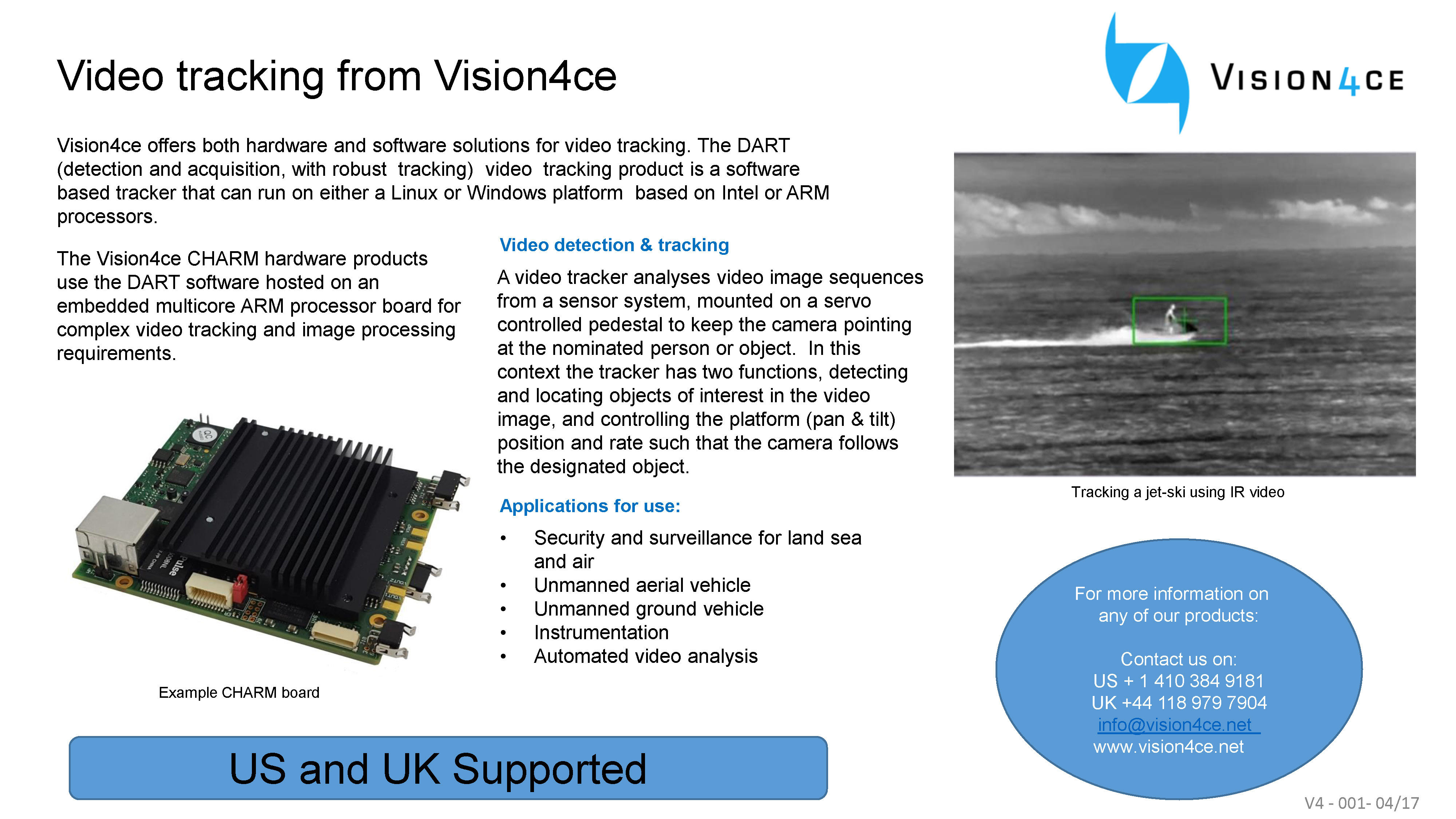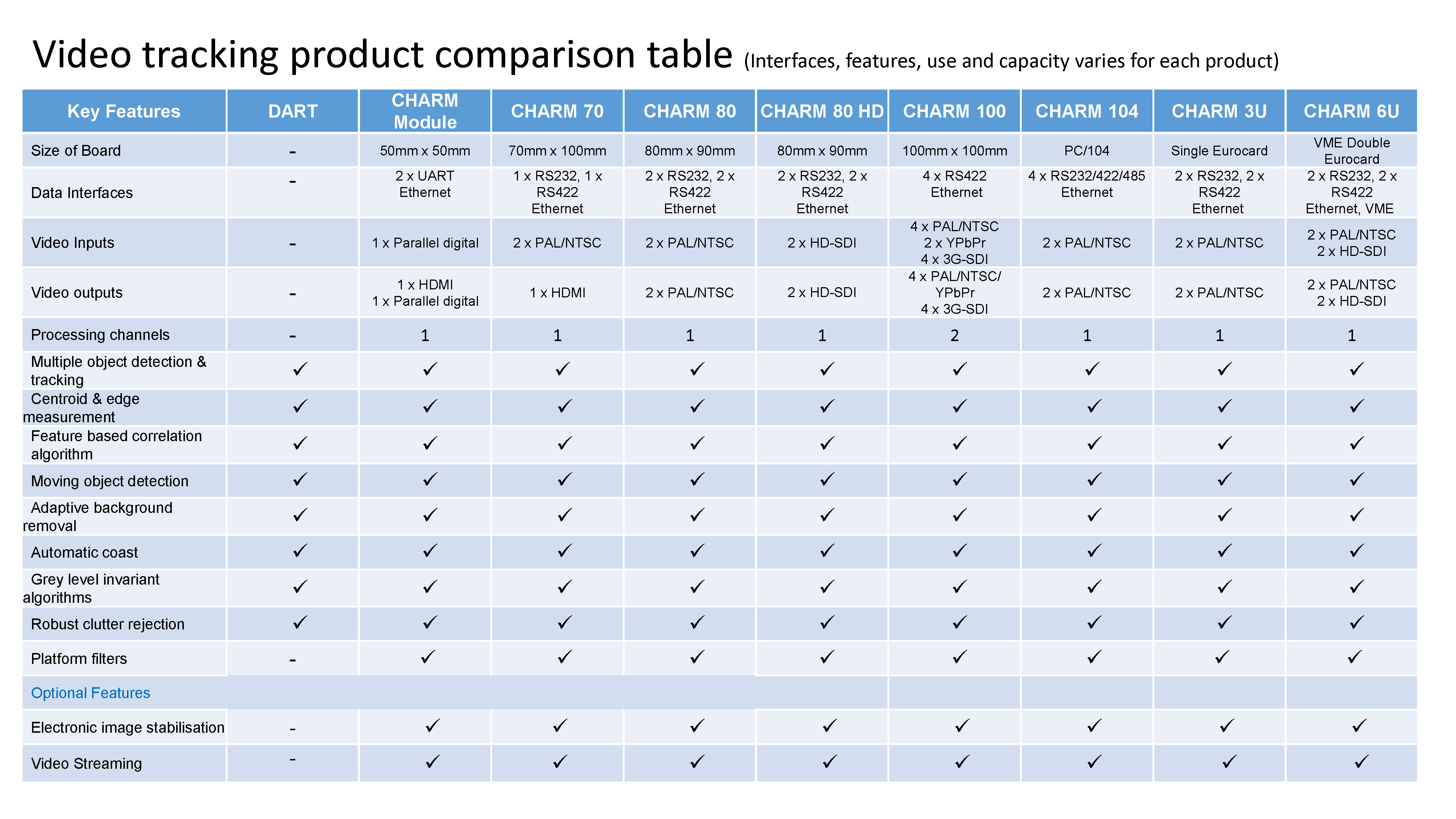 DART Software Video Tracker
The Vision4ce® DART (Detection, Acquisition, with Robust Tracking) target tracking product is an embedded software based tracker that can use either a Linux or Windows based system for video tracking and image processing applications.
A video tracker analyzes video image sequences from a sensor system (one or more cameras), mounted on a servo controlled pedestal (platform) to keep the camera pointing at the nominated person or object. In this context a Tracker has two primary processing functions.
Detecting and locating objects of interest in the video image (object location).
Controlling the platform (Pan and Tilt) position and rate such that the camera follows the designated object (Pan and Tilt Control).
DART is able to provide the user with these functions as components within the GRIP-VMS modular video management system or as a stand-alone application.
The application is able to run on a commercial desktop or laptop PC, the improved speed and commercial availability of multicore CPUs make an off-the shelf, embedded software tracking platform increasingly powerful and achievable. For OEM customers we can also offer custom solutions tailored for specific or non-standard hardware platforms.
Existing hardware based tracking systems are in general highly proprietary and expensive to adapt to meet a particular tracking requirement. In contrast Vision4ce®'s DART software based tracker allows for rapid implementation of new and different tracking algorithms offering advanced functionality and low research and development costs. The software's architecture can also take advantage of commercially available peripherals (e.g., touch screen monitors, joystick controllers, image capture cards, etc.).
Key Features
Multiple object detection and tracking
Centroid & edge measurement
Feature based correlation algorithm
Moving object detection
Adaptive background removal
Automatic coast
Grey level invariant algorithms
Robust clutter rejection
DART is fully compatible with the Vision4ce® GRIP range of rugged PCs, enabling a complete, low cost, detection and tracking system to be implemented using COTS hardware.
CHARM Embedded Hardware Video Tracker
The Vision4ce® CHARM product (Compact Hardware - ARM) uses the DART detection and target tracking software hosted on an embedded multicore ARM processor board for video tracking and image processing applications.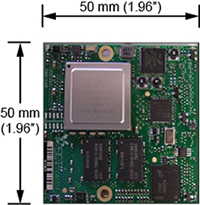 CHARM Module
The CHARM module can be integrated by the end customer to meet specific application and interface types. Vision4ce® also can provide a baseline carrier board that is populated with a generic range of interfaces for integration into customer systems for initial evaluation.
Interfaces
2 x UARTs
1 x USB2.0
GPIO
10/100/1000 Ethernet
PCIe x1
Dual video capture port (ITU-R BT.656 and ITU-R BT.1120)
Dual HD displays (DVI/HDMI & LCD)
Power
Environmental
Operating temperature -40C to +85C
CHARM Board
The CHARM board is a standalone video tracker board which allows direct connection to standard video and data interfaces.
Interfaces
1 x RS232
1 x RS422/485
4 x USB2.0
GPIO
10/100/1000 Ethernet
Two NTSC/PAL/SECAM Composite Camera inputs
Digital video input selectable from HD-SDI, HDMI, RGB or YPbPr
Two independent video outputs - HDMI and 24 bit LCD
Serial ATA 2.5 (SATA) @ 3 Gb/s
Power
Environmental
Operating temperature -40C to +85C
Passive heat sink available
For GEIP video tracker support and sales of ADEPT and AIM tracker products, please contact Vision4ce at 410.384.9181, or email us at sales@vision4ce.net
For GEIP Naval Systems inquiries and support, please contact Chess Naval Systems Group in Plymouth, UK at +44.1752 764433.